This Week At Chesley Lake Camp
The Chesley Lake Camp restaurant is not currently open. once we are you can come enjoy baked goods or a meal on our patio. Take out is also available.
Currently our golf courses have not yet opened. Once we are open give us a call or book a tee time online. 519-934-2071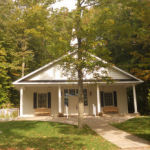 Hallman Chapel services will be resuming for the 2022 season. For more information on Hallman Chapel please visit the Hallman Chapel Page.
Upcoming programs and events can be found down below or in the main building. For more information on the scheduled events at Chesley Lake Camp this summer, you can visit our Hallman Chapel page or contact our office at (519) 934-2071 or by sending a quick email to clcoffice@gbtel.ca.