This Week At Chesley Lake Camp
Come in and check out our new menu, there is something to satisfy everyone.
Our hours are:
Sunday
8am – 9:30am
12pm – 9pm Grill closes at 6:30pm
Monday – Saturday
8am – 9pm Grill closes at 8pm
On August 13, come out and be a part of our 4 Person Scramble Tournament. There will be a special dinner of choice after your round, including dessert. Everyone goes home with a prize in this tournament  Tee off is 3pm… Please register the day before. For more information check out the Chesley Lake Camp golf course page. You could also call or stop by the Pro Shop for more information.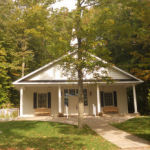 This week's Pastor is Julie Ellison White. She and her family minister from Crosshill Mennonite Church. Her husband, Mike, is a worship leader.  For more information on Hallman Chapel, or for a full list of our summer Pastors, please visit the Hallman Chapel Page.
This week's programs and events can be found down below or in the main building. For more information on the scheduled events at Chesley Lake Camp this summer, you can visit our Hallman Chapel page or contact our office at (519) 934-2071 or by sending a quick email to clcoffice@gbtel.ca.
Sunday
Morning Services at 9:30 and 11am
Evening Service begins at 7pm
Monday – Friday
Kid's Devotions (Ages 5-12) – 9:30 – 10:30am (Meet at the Basement Doors)
Adult Devotions – 9:30 – 10:30am (Meet at Hallman Chapel)
Afternoon Activities (Ages 5-12) – 2 – 3pm
Pre TBall (Ages 2-4) – 6 – 6:15pm
TBall (Ages 5-12) – 6:15 – 7:15pm
Baseball (Ages 13+) – 7:15 – 8:15pm
Saturday – August 3rd
Annual Par 4 Open – Golf Tournament
18 holes of golf, a bbq lunch and steak dinner.
See the Office or Pro Shop for more information, or to sign up.