This Week At Chesley Lake Camp
The restaurant is closed to the public between Labour day and Thanksgiving weekend.
Both of our nine hole courses are open and in great shape. We have made a few changes to keep our Golfers and staff safe during this pandemic. Give us a call and book a tee time. 519-934-2071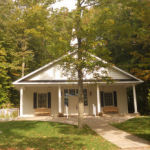 Hallman Chapel services have been postponed for the 2020 season.  For more information on Hallman Chapel please visit the Hallman Chapel Page.
Upcoming programs and events can be found down below or in the main building. For more information on the scheduled events at Chesley Lake Camp this summer, you can visit our Hallman Chapel page or contact our office at (519) 934-2071 or by sending a quick email to clcoffice@gbtel.ca.