This Week At Chesley Lake Camp
Our Restaurant is currently closed to the public until Thanksgiving Weekend.
We will be serving a full Turkey Dinner on October 13 at noon. Call the office for pricing and to make reservations.
The golf course is still open for business. The Pro Shop will only be open on weekends but there is always someone in the office during normal business hours who can help you.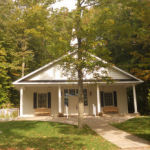 Our next service at Hallman Chapel is October 13 at 11am. Our Pastor for that service will be Stephen Anderson.  For more information on Hallman Chapel, or for a full list of our summer Pastors, please visit the Hallman Chapel Page.
Upcoming programs and events can be found down below or in the main building. For more information on the scheduled events at Chesley Lake Camp this summer, you can visit our Hallman Chapel page or contact our office at (519) 934-2071 or by sending a quick email to clcoffice@gbtel.ca.
Sunday October 13, 11am – Final Hallman Chapel service of 2019